This was pretty much me on Thursday morning: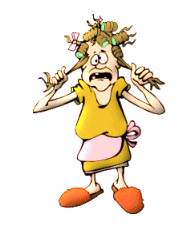 Absolutely tearing my hair out! Why, you may ask. Well, because I am the mother of a ten year old boy and sometimes it is just much harder than it should be!
My child has an allergy to tree nuts, and therefore he has to take allergy medication and an Epi-pen to before and after school care, as well as anywhere else we go, every day. For once, we were leaving on time for school, and I was on target to get my normal train, when just as we were pulling into the school car park he turns to me and says "I've forgotten my epi-pen. Sorry Mummy." Because it could potentially be very serious if something happens and he doesn't have the medication, I turn around and drive home again. He goes inside the house to get it, but returns to the car empty handed.
"It's not there" he says. So I check in his school bag, and look at that, it has been there the whole time. At this point, I am just a little bit cross, have now missed the normal train and I am aiming for the late train. I drop him off at school, and then go to the train station, and am lucky enough to find a carpark in a marked bay (lucky because at that time of the morning the carpark is usually completely full).
Now, before I go too much further in this story, I need to tell you that he asked for a lunch order today. I said yes and so he got the money required out of my purse and did what we need to do.
Back to the story. With the extra trip I made I had missed the normal train, but was early for the late train, so had the brainwave that maybe I could go and get some breakfast from the nearby bakery. I needed to check if I had enough cash, so went to get my purse out of my bag. Uh-oh...no purse! You guessed it. The little darling had left my purse on the cupboard at home instead of putting it back where it goes.
Another trip back home to retrieve the purse, and I got back to the train station (no parks now) just as the late train left, so I ended up catching the even later train! Eventually I got to work, and all was well, but seriously, there are days when it takes all your energy not to be a complete screaming banshee all day long!