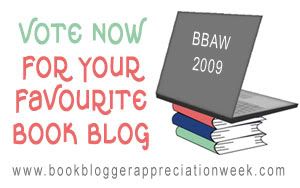 I have to say that I am absolutely 100%, completely surprised to see that I made it to the final round of voting for the BBAW votes in the category of Best Romance Blog, especially seeing as I don't particularly focus on romance. The genre makes up a lot of my reading and so I talk about reading romance in the same way I talk about reading historical fiction, or mysteries or YA.
Three of my fellow nominees are blogs that I read regularly, and there is one new blog to me that I will be sure to check out.
I know who my favourite to win the category is, and no, it is definitely not my blog! LOL!